When I was a young adult , if someone suggested for me to walk up to someone I didn't know and introduce myself, it either wouldn't happen or it would take me a long time to get the courage to do it. I would be nervous. My hands would sweat. I would have no idea what to even say.  I have always been outgoing, but for me to strike up a conversation with someone I didn't know, it was definitely way out of my comfort zone. Fortunately throughout my adult years, I was given lots of opportunity to practice this and have become very comfortable in introducing myself to people.
As a business owner, one of the most important things you need to do is be able to get yourself out there and gain new clients. And that means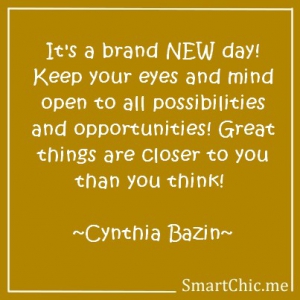 being comfortable talking with people you don't know  yet.  A few weekends ago, I participated in a short business mastermind group as part of a larger event I was attending. There were 5 people other than myself at that table. One person I had previously corresponded with on the phone, but for the most part I didn't know any of these people at the table. What an amazing experience this was, because in the time that we were participating in the mastermind and talking with each other throughout  the day, I learned so much about myself and had several 'ah ha' moments about my business. This was a result of me interacting with many interesting people with various ideas and perspectives about business and life.
Now I must say that I extremely value the people in my inner circle that I have known for years. I trust them, they have amazing wisdom and the consistency you want in a great relationship. But my experience during this weekend event reminded me of the value of meeting new people!
6 'Smart' Reasons to Meet New People Any Opportunity You Can
Learn Something New From Every Person You Meet

– With every interaction  we have with people, there are takeaways we can get.  Sometimes we can get too comfortable in our own world. It's good to hear differences in opinion and other perspectives. It's amazing the wisdom that is out there! Tap into it. Learn from others!

Enhance Your Communication Skills

– When you interact with people of diverse backgrounds, it gives you the ability to practice your verbal communication skills. The more comfortable you get communicating, this can open up many possibilities for you in your personal and professional life.

Gain New Friendships

– It's amazing the number of quality people that I have met by just starting a conversation! Keep yourself open to great opportunities. And it's always great to make a new friendship!

Acquire New Clients

– Opportunities for new client acquisition is everywhere.  By starting a conversation with people, you get to listen to what their hopes and dreams are in life. And you just never know, you might gain a client out of it all. Keep your eyes and mind open!

Get New Fresh Ideas

– We all get stuck sometimes in life. Our ideas for our personal and professional life might appear to be good to us, but when you get around new people, you can come alive with new creative ideas to get you pumped up about your life.

Have a Quality List of Resources

– Successful people have great resources in life for themselves and to provide value to others.  Having a strong network of people in your inner circle that are experts in different fields is an awesome thing to have!  Because when you need something, it's always a good thing to have trusted people to lean on.  The person next to you might be the resource you need right now or at a later time.
So how do you feel about meeting new people?  Do you struggle with it or do you love doing it? Do you have some examples of how meeting new people has positively enhanced your life?  I would love to hear from you! Post your comments below.
Cynthia Bazin is absolutely passionate about YOUR success and happiness. If you are ready and committed to change your life and take charge of your life, contact Cynthia today to start a conversation!    [email protected]   |   https://cynthiabazin.com  Be sure to be on the look out for my 2015 workshops and programs being announced VERY soon! It's going to be an awesome year for YOU!
Cynthia is also City Director for a national magazine 'Today's Innovative Woman'! Check out her city page today!  http://todaysinnovativewoman.com/sacramento