I am driven. I am motivated. I am a self-starter. If someone says I can't do something, watch out because I am going to prove that 'yes I can' do it.  I have accomplished a lot just with my own internal drive for life.  But yesterday was one of those days that reminded me of the importance of surrounding ourselves with the most amazing people.
I have been working on the final details of some exciting things that I will be announcing shortly for my business. I work on things early in the morning and review things late at night. I am passionate and confident about the path I am taking. But it was this one thing that happened to me yesterday that just made things completely whole; gave me that final confirmation to go for what I have been working so hard on. A business woman that I really have admired from a distance for a long time now (Caterina Rando), invited me to meet up with her in the afternoon and talk about my business. In that hour or so that we met up with one another, it is amazing the value of information I received, the inspiration I got and the feeling of support.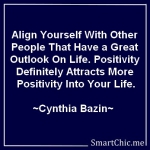 After finishing that meeting, I took a little time for myself and thought about the amazing things that happen when you surround yourself with the best people.  I hope this inspires you to ensure you have the right people around you.
7 'Smart' Reasons to Surround Yourself with High Quality People
Positive Energy is Contagious

– It is absolutely amazing the positive energy you will catch when you surround yourself with the BEST people. Life is short. Positivity rocks!

Inspiration to Be Your Best

– Awesome, high quality people are going to pump you up to be not just ordinary but to be extraordinary!

Being Supported Is Awesome

– Alone we can do a lot in life, but there is no better feeling than being supported by people who 'get' you.

You Learn and Grow Through Them

– Life is about learning and growing and aspiring to be better every day. With quality people around you, the wisdom you will get is inspiring.

Stress Reliever

– We all have challenging days in life. With the right people around us, they lift us up and get us back in balance just when we need it most.

Connecting With Like-Minded People Gives You Confidence

– No matter how successful you are in life, we all like to be connected with people who get us and give us the confidence to really go for it. With quality people in your life, you will get just that.

With Quality People, the Possibilities are Endless

– With the right people in your life, there are no limits to what you can do. Get ready to take on the world. Because those great people in life will be right there cheering you on.
I encourage you to take a look around yourself and see if you feel you've got the best, positive people around you. If you do, I'd love to hear the positive things that your quality people do for you in life. And if you need to work on this, I am here for you! Let's inspire one another to connect and surround ourselves with only the best people! Post your comments below. I want to hear from you!
Cynthia Bazin is absolutely passionate about YOUR success and happiness. If you are ready and committed to change your life and take charge of your life, contact Cynthia today to start a conversation!     [email protected]   |   https://cynthiabazin.com
Cynthia is also City Director for a national magazine 'Today's Innovative Woman'! Check out her city page today!   www.todaysinnovativewoman.com/sacramento